Garments and accessories for Controlled Environments
The performance and the choice of the best garment and/or clothing for use in CLEAN or CLASSIFIED ROOMS must include a series of functions in order to protect the product and the environment against contamination by users, in which case there are protection as PPE (Personal Protective Equipment) of the operator against possible solid or liquid substances determined as dangerous for the person, whether there is a chemical or biological hazard.
Regarding the dissipation of electrostatic charges, in some environments static dissipation may be necessary to protect equipment or components. For any clothing system to be static dissipative it must be capable of draining a "build-up charge" through grounding devices, such as "workstation grounding clips" or " static dissipative flooring. In some "wet" process applications it is desirable to keep the worker dry and comfortable. For this reason, a fabric with liquid barrier capacity is required to prevent their penetration.
There is no perfect garment, since there is a factor of human use, but there are reciprocal garments that can be used as Garments for Process Control, or for Protection against Biological or Chemical hazards as PPE or for both, for the protection of the process and the person.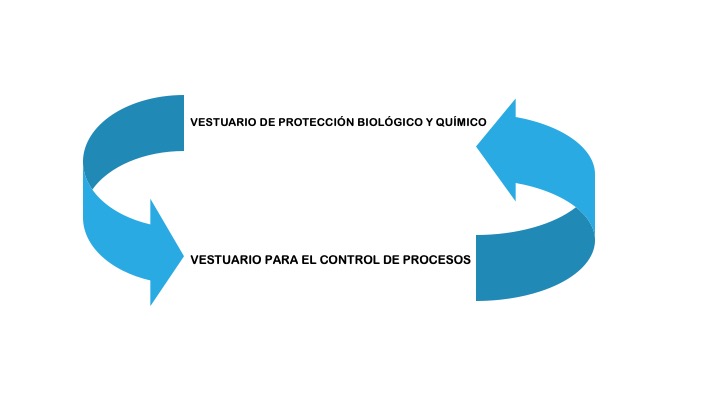 Not all cleanrooms are the same, nor are all cleanroom suits. he design of the cleanroom and the activities that are performed have a great influence on the requirements of the cleanroom garment that are necessary requirements for a specific application.
| | | | | | | | |
| --- | --- | --- | --- | --- | --- | --- | --- |
| ISO 14644 | ISO 3 | ISO 4 | ISO 5 | ISO 6 | ISO 7 | ISO 8 | ISO 9 |
| US FED. ST 209 | 1 | 10 | 100 | 1000 | 10000 | 100000 | |
| GMP Guide EU | | | A/B | | C | D | |
The ability of each cleanroom garment to minimize particulate contamination depends on the properties of the fabric used for its construction. Factors to consider include that the primary function of a cleanroom garment is to act as a filter between the wearer and the environment to reduce the wearer-generated particulate load released into the environment.
Particles and bacterial filtration efficiency: it is a test that measures the ability of the tissue to act as a barrier for the release of particles foreign to the tissue. It varies in the size of the particles used in the test, in the rate of airflow through the fabric, and in the presence or absence of charge on the particles in the test.
Cleanroom garments must be tough enough to maintain its intended barrier during use, that is, for the life of the garment. Therefore, mechanical resistances such as tearing and tearing are important.
RAMOS STS® has a wide range of Disposable Protective Garments and Disposable Accessories for CleanRooms and Controlled Environments.
Telephone
(34) 91 797 65 50